Events
I-90 Aerospace Corridor Conference
Where: COEUR D'ALENE Resort
115 South 2nd Street
Coeur D'Alene, ID 83814
When: May 31st to June 1st 2023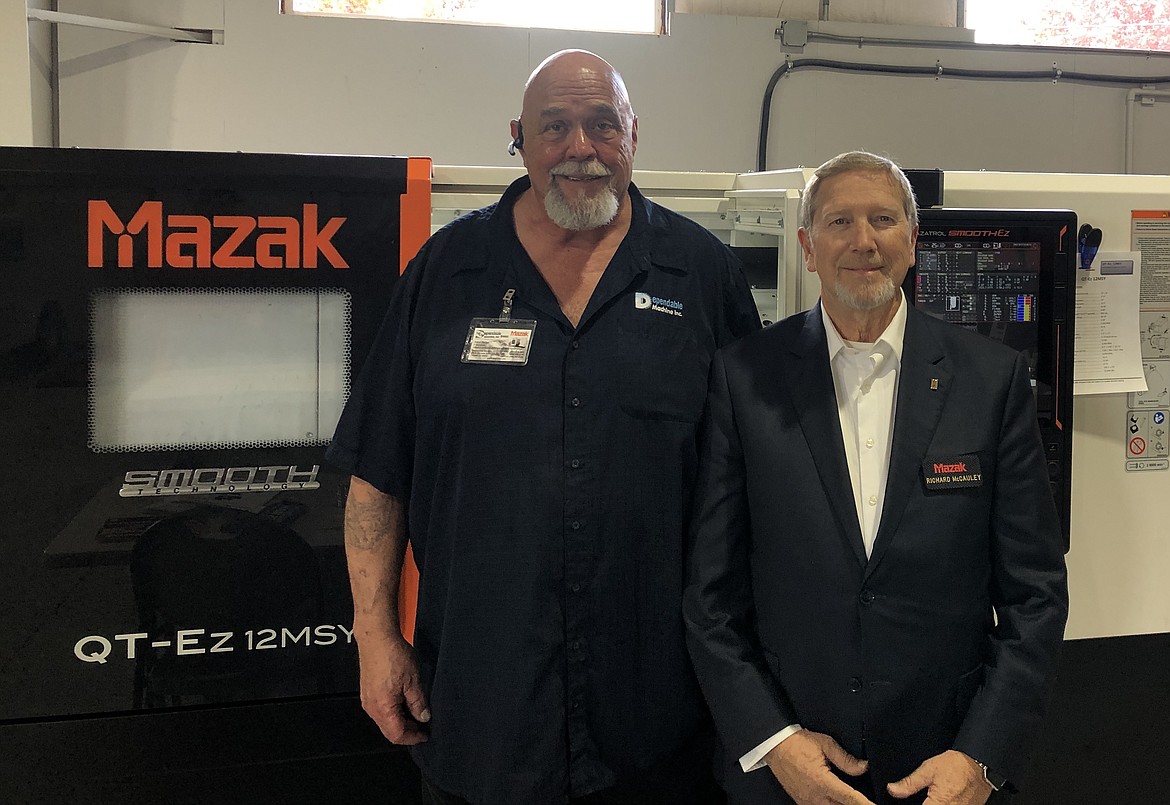 From left, Dave Fisher, owner of Dependable Machine Inc., and Richard McCauley, regional sales manager for MAZAK USA, stand together for a photo near a MAZAK lathe at an open house in December 2022, at Dependable Machine. The machine pictured is similar to one donated by MAZAK and Dependable Machine to Kootenai Technical Education Campus to train students in the automated manufacturing department on the most-current machines to meet industry standards.
Photo courtesy of John Grimm
By JOSA SNOW
Staff Writer | January 25, 2023 1:00 AM
Dependable Machine in Hayden and Mazak USA collaborated to donate a Computerized Numerical Control, or CNC, lathe machine — valued at nearly $100,000 — to the automated manufacturing program at the Kootenai Technical Education Campus.
KTEC will host an official ribbon-cutting March 13 to celebrate what the donation does for the department.
"We couldn't afford to run the automated manufacturing department without the help of the industry," said KTEC Director Colby Mattila.
The new Mazak lathe was hooked up to power Monday and gives the department a computer-controlled machine that reflects current industry technology.
"Demand for machining in the Pacific Northwest is really high and it's only going to get worse," said Dave Fisher, board member of Dependable Machine. "A lot of shops are moving to North Idaho. They find out there's a Mazak dealer and they contact us."
Dependable Machine is a distributor that sells and maintains manufacturing machines, including Mazak, a well-known brand that manufactures some of the industry's leading equipment, including computer-powered CNC machines.
"Mazak is one of the premier machine tool builders in the world," Fisher said.
With the donation of this lathe, KTEC teachers are able to prepare their students to work on machining equipment that is the standard in the industry.
"I will be trained on it, and I'll develop and document a training program for the students," said Dale Sprouse, an instructor in the automated manufacturing department at KTEC. "I'll design projects for them to become familiar with the programming, setup and operation of the machine."
Machining and manufacturing in the Pacific Northwest is booming, Fisher said. He sees demand increasing for skilled workers as industry comes to the area, and donating the lathe will help KTEC train skilled laborers from his hometown to fill his industry.
"It'll bring us up to date and give us current training," Mattila said.
Fisher's goal with the donation is to give back.
"Vocational training is important, especially these days," Fisher said. "It's a good trade. I've been working on machines for 45 years, and I've never had a problem getting work."
The Mazak CNC lathe is the largest donation KTEC has received to date, from both the standpoint of production and value, Mattila said.
"We love KTEC over there," Fisher said. "The whole program is amazing. The vocational end of this is amazing. There's such a need for qualified machinists and KTEC is instrumental in making that happen."